Zac Efron as Ted Bundy is here in shudder-inducing biopic trailer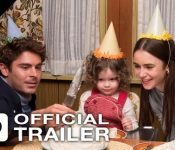 "Once a Wildcat, always a Wildcat!" Well, unless you get offered the juicy role of one of America's most infamous murderers—then all bets are off.
High School Musical, Baywatch,
and
Greatest Showman
alum Zac Efron is shedding his handsome boy-next-door-ness to tackle the role of notorious serial ...
read more
3 months ago