What is Google Search Console?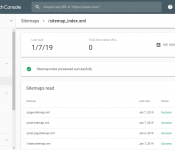 Google Search Console (or 'GSC' for short) lets webmasters monitor and manage their websites through an
official portal
, and is crammed full with useful statistics. Having access to tools and data provided directly by the search engines can make optimizing your website much easier! It's a communication channel Search Console accounts ...
read more
3 months ago