What Happens When SEO and CRO Conflict?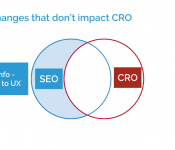 Posted by
willcritchlow
Much has been written and
spoken
about the interplay of SEO and CRO, and there are a lot of reasons why, in theory, both ought to be working towards a shared goal. Whether it's simple pragmatism of the business benefit of increasing total number of conversions, or higher-minded ...
read more
2 months ago