Top skills for PPC, Paid Search, and SEM Specialists in 2019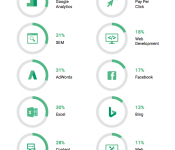 The new year often comes with a resolution to find a new job. As such, many companies put off their hunt for new talent until after the holidays.
That makes January the perfect month to review resumes and make sure they're up to date on the skills employers are ...
read more
2 months ago