The rise of the Tinder-themed wedding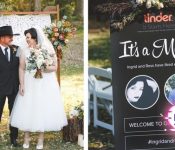 In our Love App-tually series, Mashable shines a light into the foggy world of online dating. It is cuffing season after all.
The Tinder catchphrase "It's a Match!" has always contained a semi-ironic nod to the decidedly old-school roots of matchmaking. But the phrase that launched a thousand hookups takes ...
read more
2 months ago