Revisiting the superhero films of the '90s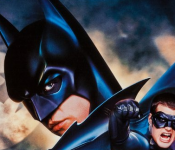 We are currently living in the golden age of superhero movies. Every few months, a new one arrives in theaters and dominates the zeitgeist for a few weeks before hype (or dread) starts to build for the next film.
Captain Marvel
, the latest movie in Marvel's decade-long streak, is the ...
read more
3 weeks ago