'Punisher' deserves so much better than where Season 2 leaves him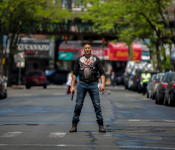 In a sea of heroic do-gooders,
Punisher
was a welcome arrival onto the Marvel scene. While certainly nowhere near as evocative and poignant as
Jessica Jones
Season 1, his 2017 solo introduction into the Netflix-Marvel pantheon showed promise. The moral complexity of his character added some much-needed shades of grey ...
read more
3 months ago