Nike's auto-laced future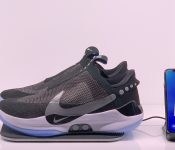 Why does the world need a self-lacing shoe?
Haven't you heard of Velcro?
How will you tie your shoes when the Wi-Fi is down?
That's the gist of the instant response I got when I mentioned the new Adapt BB, a shoe from Nike with, yes, powered laces that tighten
...
read more
3 months ago