Man who strangled a mountain lion recounts the horrific attack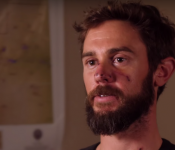 Warning: this video contains graphic images that some readers may find disturbing.
Not wearing Airpods saved this mans life. Well, kind of. Travis Kauffman, 31, was attacked by a mountain lion in the Horsetooth Mountain Open Space in Colorado on Feb. 4. Kauffman recounted his story to ...
read more
1 month ago