How Bad Was Google's Deindexing Bug?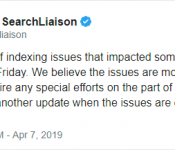 Posted by
Dr-Pete
On Friday, April 5, after many website owners and SEOs reported pages falling out of rankings, Google confirmed a bug that was causing pages to be deindexed:
MozCast showed a multi-day increase in temperatures, including a 105° spike on April 6. While deindexing would naturally cause ranking flux, as pages ...
read more
2 weeks ago