'Game of Thrones' deaths: How much blood has been shed?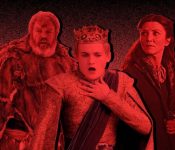 It seems a lifetime ago that we were issued the prime directive of
Game of Thrones
: You win or you die. Since then, we've watched our favorite characters (and a whole lot of expendable randos) compete valiantly or end up stabbed, shot, frozen, and burned in the ensuing unpleasantness. Death ...
read more
2 weeks ago