Fiona the Hippo celebrates her big 1,000 pound milestone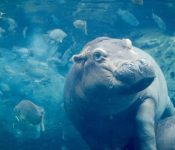 The world's most beloved hippo,
Fiona
, celebrated the holidays just like we do: by watching the scales closely. The Cincinnati Zoo's famous hippo has officially topped 1,000 pounds, up from a whopping 770-ish pounds from her Jan. 2017 premature birth weight of 29 pounds. Hooray! 🎉 Fiona finally broke ...
read more
4 months ago