All your favorite TV comedies end this year. Now what?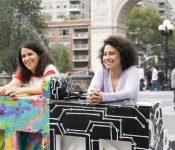 2019 is turning into some sort of comedy killer. We're losing some iconic shows this year. If, like me, you're not ready to mourn the loss of The CW's underrated gems like
Jane the Virgin
and
Crazy Ex-Girlfriend
or entertainers like
Broad City
and
Veep,
I've got you covered. Here's ...
read more
2 weeks ago