SEO tools available online
There are various SEO tools available online from keyword analyzer to full SEO reports all are available for free. It depends how you want to apply your strategy along the new age SEO tactics for websites. Keyword analyzer searching for the trending paraphrase or a focus keyword. SEO report includes a keyword density check, cloud of tags in your website, html headings tags, Ranking along Alexa, Google, Bing, Indexing at Yahoo, Google, Bing, Yandex, Social Media sharing stats like Facebook Likes, Google+ shares, Tweets at Twitter, StumbleUpon Shares, Pinterest Pins.
More like Google Authorship if it's author at google verified, corrected Meta Descriptions, Meta Tags, Backlinks inbound and outbound, Domain Authority, Domain Ranking, Open Directory Listing, Domain Age, Google Page Rank(now days its normally not updated: Google).
So what you need to generally start with is to trending in the world according what your website/websites is about. Then you need a SEO techniques to start a professional website in a technical manner so you keep a check around the world with SEO Tools.
SEO Tools sites that are giving these valuable things at free cost are
SeoLinkBuilding has given us 150+ SEO tools for flourishing SEO Link Building Mechanism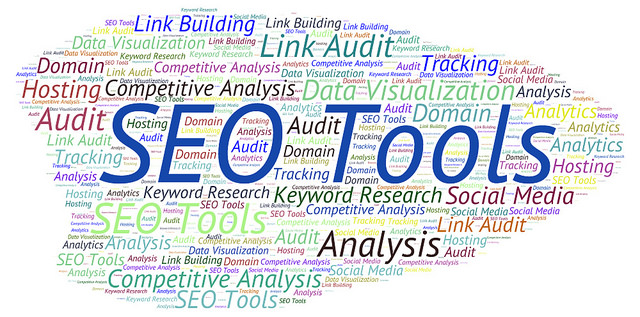 Image Credits : seolinkbuilding.org
SeoBook offers various tools for SEO they are
Keyword Suggestion Tool(Get Keyword suggestion and detailed statistics)
Keyword List Generator(Use this tool to compare keyword lists against each other)
Keyword List Cleaner(Clean up your keyword list)
txt Analyzer(Robots.txt tools)
Meta Tag Generator
Server Header Checker
Link Suggestion Tool
Spider Test Tool (View like your search engine)
Keyword Density Analyzer
Page Comparison Tool
AdGroup Generator
Keyword Wrapper
Typo Generator
SmallSeoTools offers 100% free seo tools they are:
Plagiarism Checker
Article Rewriter
Keyword Position
Online Ping Website Tool
Backlink Checker
Link Tracker
BackLink Maker
Google PageRank Checker
Reverse ip Domain Check
Check Server Status
Word Count Checker
Spell Checker
Class C ip Checker
What is My ip
Domain Age Checker
Website Page Speed Checker
Website Page Size Checker
Code to Text Ratio Checker
Website Links Count
Websites Broken Link Checker
Meta tags Analyzer
Website Page Snooper
Ip Location
Alexa Rank Comparison
Keyword Density Checker
Page Comparison
Spider Simulator
Comparison Search
Visitor Hit Counter
Xml Sitemap Generator
Domain Authority Checker
Google Cache Checker
Whois Checker
Moxrank Checker
Page Authority Checker
Google Index Checker
Alexa Rank Checker
Domain Ip Lookup
Redirect Checker
Similar Page Checker
Link Price Calculator
Reciprocal Link Checker
Cloaking Checker
Keywords Suggestion Tool
Website Keywords Suggestion Tool
Url Rewriting Tool
Keywords Rich Domains Suggestions Tool
Domain Hosting Checker
Online Md5 Generator
Website Link Analyser
Google Malware Checker
Screen Resolution Simulator
Online Url Encoder Decoder
Find Facebook id
Password Encryption Utility
Password Strength Checker
Adsense Calculator
Grammar Checker
Webconf tools offers
Similar Page Checker
Search Engine Spider Simulator
Backlink Anchor Text Analysis
Backlink Builder
Backlink Summary
Keyword Density Checker
Redirect Check
Link Price Calculator
Reciprocal Link Check
Cloaking Checker
Domain Age Tool
Keyword Suggestions Tool
Website Keyword Suggestions
URL Rewriting Tool
Keyword-Rich Domain Suggestion Tool
Alexa Rank Checker
Backlink Tracker Pro
SeoToolSet has minimal set of free tools they are
Keyword Suggestion tool
Search Engine Optimization/KSP tool
Top-Ranked Websites by Keyword tool
Single Page Analyzer
SEO Multi-Page Information tool
Domain Indexing Report
Check Server Page tool
Link Analysis Report
Pages Indexed and Inbound Links Report
SEO Cloaking Checker
SubmitExpress has vast variety of seo tools they are
FREE WEBSITE SUBMISSION
META TAG & KEYWORD ANALYZER
LINK POPULARITY CHECKING TOOL
XML SITEMAP SUBMISSION
KEYWORD SUGGESTION TOOL
KEYWORD TRAFFIC ESTIMATOR
SEO DICTIONARY
META TAGS GENERATOR
PAGERANK CHECKER (SPONSORED LINK)
PAGE SNOOPER
BROKEN LINK CHECKER
LINK COUNTER
RECIPROCAL LINK CHECKER
Seochat offers tools
Google Backlink Checker Tool for Penguin & Disavow Analysis
Get URLs from search results Greasemonkey script
Website Crawler and XML Sitemap Generator
External Link Crawler and Title Tag Extractor Tool
Compare Google, Bing, Yahoo, Ask, Blekko Rankings
Smart URL List Cleaner Tool
Link / Header Response Bulk Checker
On-Page SEO Optimization Analysis Tool
Page Comparison
Google Keyword Suggest Tool
Internal Page Crawl
Last Modified Date
Title Tag and Meta Description Data for Multiple URLs (free tool)
Suggestion Keyword Finder
Advanced Robots TXT Generator
Free XML Sitemap Validator
Keyword Combination Tool
Page Keyword Density Analysis
Keyword Cloud Tool
Page Image and Link Analysis Tool
Internal/External Link Analyzer
C Class IP Checker
Search Engine Spider Simulator
Page Speed
Indexed pages
Advanced Meta Tags Generator
Meta Tag Analyzer
Advanced Meta Tag Generator & Google Search Results Preview
Web Page SEO Analysis Tool
Keyword Density with Options
Author Backlink Crawler
Check Your Youtube Reputation Tool
Social Media Tool + Authorship
Edit Images for Facebook, Google +, and Twitter Tool
Social Activity Tool
Check your Facebook Privacy Setting
Find Your Facebook ID
org in-Depth Article Code Generator
People Rich Snippets Schema Generator
Review Rich Snippets Schema Generator
Event Rich Snippet Schema Generator
Product Rich Snippet Schema Generator
Brand (Organization) Rich Snippet Schema Generator
Movie Rich Snippet Schema Generator
Book Rich Snippet Schema Generator
Video Schema Generator
Google Adsense Calculator
CPC ROI Calculator
CPM Advertising ROI Calculator
Google AdSense Preview
Google Adwords Keyword Tool
Keyword Typo Generator
txt Validator
Whois Domain Look Up
HTTP Header Response Status Codes Check Tool
Domain Age Checker
DNS Lookup Tool
Whats My Browser Size Tool
Browser Settings
Search Engine Friendly Redirect Checker
htaccess Generator
Whats My IP
IP Address Converter
Ping Test
Base64 Encoding Decoding
Domain Name Typo Generator
HTML Source Code Viewer
Code to Text Ratio
Free HTML Validator Tool
URL Rewriting
URL Encoding
Website Pattern Extractor
Fetch HTML content
Webpage Size Lookup
Dig Utility
Regular Expression Pattern Extractor
Regular Expression Match
Datetime Format Converter
Analyze HTTP Header Tool
Favicon Generator
HTML to PHP Converter
CSS Coder
HTML Code Cleaner
HTML Encoder
HTML Entities Encode Decode
Floating Layer
Internet Explorer Scrollbar Color
DHTML Tooltip Creator
PopUp window generator
Web Safe Colors
Advanced Syntax Highlighting
Create 1 list from Several Lists
Hide Your Email
What Does My Phone Number Spell?
Words Counter
Password Generator
Password Strength Checker
Password Encryption Utility
Online spell checker
Lunametics has updated their list of 15 best free tools in 2015 here is a link. http://www.lunametrics.com/blog/2015/06/08/my-15-favorite-free-seo-tools/
Moz has done article with 100 free seo though Moz always love to use premium tools but they have given their readers 100 best free tools https://moz.com/blog/100-free-seo-tools
If you are looking for the marketing here there is the best marketing tools available online too they are introduced by marketing ninja https://www.internetmarketingninjas.com/tools/
Marketing along a digital world if you are reader then you have once found kissmetrics a very unique SEO startergy used for the new trends in the seo they also given us 6 profitable seo tools both free and freemium
https://blog.kissmetrics.com/6-indispensable-seo-tools/
Follow me on twitter : @sidblog
Like us on Facebook : www.facebook.com/websitesandseo
Click on ADS here to support us.